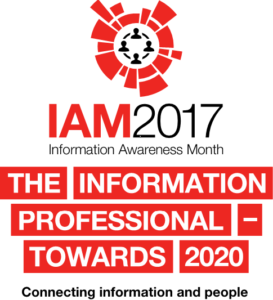 May is Information Awareness Month (IAM). The purpose of IAM is to increase public awareness of information and its place in all aspects of daily life.
This year's theme is "The Information Professional – Towards 2020."
To celebrate IAM, we will be posting all about the information profession. So keep an eye on the blog during May!
To kick off this month, we asked our Digital Implementers what they think they will be doing in 2020.
Some of the digital implementers think they will be focussing more on information systems and other format of records such as SMS, social and web based media. Some see their roles evolving into business analysis, business process analysis or data analysis.
Here are some of the answers:
I see myself in a technical role moving our systems – as they have come out of paper based records system.
I see myself in a role where we will need to be very adaptable and work within all areas of the agency to try and get interoperability across multiple systems as well as records compliance.
We will need to be like a records/systems/web/cloud auditor trying to ensure that records are kept for as long as they should be and that the records/information/data is retained and archived and available for use in the longer term especially social and web based media. At my organisation, the push is for mobile/web/cloud based systems. We have many systems but only 200 employees.
I believe my job will be far more focussed on information in systems beyond EDRMS. It is likely that my role will be more like a Business Analyst-being involved in defining requirements and educating IT on the requirements that systems must meet. Archives will be more about digitising and providing self-service options on our website. I believe I will be trying to ensure that records are created, registered in compliant systems with mapped disposal authorities, with naming conventions and search structures and libraries etc.
I will be re-designing processes to accommodate digital processing having left the paper paradigm behind.
I need to be providing services with insight and discovery expertise with "Knowledge Management "and not just data, information with no separation between information and records and management and services of Big Data.
I will be focusing on the Governance of information sharing and publishing, teaching people how to focus on this and ensuring that systems are designed from the outset with a governance perspective. I will be connecting more with the people who need the information – to ascertain how, when and why they need it and responding appropriately.
I will be in a consulting or data analysis support role as solutions and technology will change significantly in the next 3 years.
I believe that I will be the auditor of records/information management across the organisation with the plan of action to raise the awareness and achieve compliance.
I will hopefully be more up to speed on capturing media information like SMS, using data more than documents for investigation and analysis, using data sets or databases that are linked and user friendly and archiving digitally to State archives.
I will be lobbying State Archives and Records NSW to revisit the State Records Act and renew why we are doing what we are doing. I will also be lobbying Microsoft and other application providers to provide means of governance in consultation with SARA.
I will be a research specialist finding the historical information, a source of advice for traditional information management about how and why to manage a team's information, provide an advisory and governance role to ensure teams manage their own information. Though the focus has shifted to high risk information, I will still be the guardian of the orphaned information.
Some of our digital implementers also think they'd be retiring by then. :)
As for me, I think in 2020 we will still be playing catch up with information technology. Hopefully by then, we might have answers for the current wicked records and information management problems. Or perhaps by then we know how we can do recordkeeping in this increasingly collaborative era of digital computing.
As always if you need help or if you need someone to talk to about records and information management, we're here to listen.