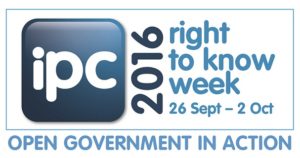 Today is Right to Know day and State Records NSW is proud to be a Right to Know 2016 Champion!
One of the themes this year is Open Government in Action. Open government increases accountability and promotes citizen input to government service delivery and policy development.
Good recordkeeping is fundamental to an open government
Records are evidence of business activity. Creating and managing good records is essential for demonstrating what you have done and the decisions you have made. Having good records available supports the public's right to know.
The recently updated standard ISO 15489 Records Management describes the four characteristics of authoritative records.
Authenticity
When a record is authentic, you can prove that it is what it purports to be. We should not operate under any assumption that the public thinks, 'This was provided to me by a Government agency. It must be authentic'. Maintain the appropriate metadata you need to show that your records are what you say they are. When records are copied, converted, or migrated to another system, make sure the metadata stays with the record.
Reliability
A record is reliable when you can trust that the information it captures is full and accurate and you can depend on it for decision making. If your digital records are held across multiple systems, a robust information architecture helps to ensure you have all the information you need. Don't get caught out providing a requestor with only part of the record, only to discover that there is more when they come back to you!
Useability
Support the right to know by making sure your records can be found and read when needed. Maintain your records in accessible systems and formats to avoid expensive recovery costs for records hidden in obsolete systems.
Integrity
A record has integrity when you can show that it is complete and unaltered. You can maintain the integrity of your records by appropriately managing permissions and access controls, and demonstrate that integrity with audit logs.
Support the right to know
Keep in mind that each NSW public office has a legislated obligation to make and keep full and accurate records of its work[1]. By maintaining trustworthy, authoritative records, you contribute to an open government that is accountable and transparent, and that recognises the public's right to know!
[1] Section 12(1) of the State Records Act 1998