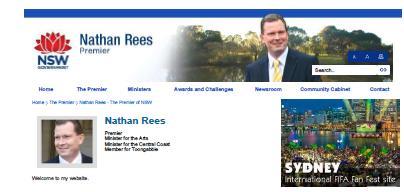 As anyone who works in recordkeeping knows, government records are inextricably bound up with the ebb and flow of administrative and  political change. This is no less true in the digital environment, a recent case in point being the departure of the former Premier, Nathan Rees, who was  removed by the Labor caucus and replaced by Kristina Keneally on December 3 last year. As the State's recordkeeping regulator and archive, it was then necessary for State Records to investigate how the official records of Rees's Premiership would be protected and preserved.
Records in the midst of changes like this face a number of risks. The sudden departure of staffers responsible for certain aspects of the Premier's role can mean little knowledge remains of the location of records or how they were arranged. There can be uncertainty about where responsibility lies for the ongoing management of records, particularly where shared services have been used for things like website management. In the case of digital records, these problems can be compounded by the use of proprietary software systems which can leave digital records inaccessible without the software they were created in.

Then there is the problem of transfer. State Records has yet to secure the funding necessary to implement a facility capable of preserving digital records as State archives, and so must rely on the provisions of the State Records Act 1998 that require public offices to 'maintain accessibility to equipment / technology dependent records' (section 14), for as long as they are required. However in the case of a departing Premier, there is, unsurprisingly,  little interest within the new administration in maintaining the former Premier's records. So we knew that even having overcome the range of challenges described above, we would need to weigh up our options for possibly accepting transfer of these records as a special case.
A key group of records that we investigated was the former Premier's website. Significantly, Nathan Rees was the first New South Wales Premier to have his own, separate website. The website contained a full set of media releases, all the videos of the Premier that had been uploaded to YouTube and elsewhere, biographical information and details of his policy objectives and Cabinet. In addition, he was the first Tweeting NSW Premier. While the subject matter of the Tweets was not always perhaps of State significance (Go Eels! 12:04 AM Sep 25th) these records were therefore important by virtue of the fact that they demonstrated the first use of social networking / web 2.0 technologies at the highest level of government.
The Premier's website however has been created and maintained in a proprietary software system  which required use of its software to display the webpages, and which had limited export capability. So while the media releases and videos were simple to extract, being in formats that did not rely on this software, the pages themselves were a different story. It was necessary in fact to convert them to a suitable preservation format – PDF. While this resulted in some loss of functionality, the overall look and feel and  content of the site were captured in line with our Policy on digital records preservation. The videos represent a separate challenge in that they are in proprietary formats (Windows Media, Flash) and long term preservation formats suitable for digital audiovisual records are still under discussion in the digital preservation community. However these formats (Windows Media and Flash) are considered low risk being very widely adopted and so are suitable for now. We continue to keep a close eye on the work done by National Archives of Australia and others in this space.
The records of the former Premier's website are therefore with us while we wait for news of the latest funding bid for the digital State archive project. Once it is up and running they can be normalised using the Xena tool,  securely preserved and made available. Who knows, perhaps these records will feature in a thesis written  a hundred years from now exploring the impact of the advent of social media!