Digital information is easy to create, share and use and is today a vital business resource, critical for business activity and efficient operations.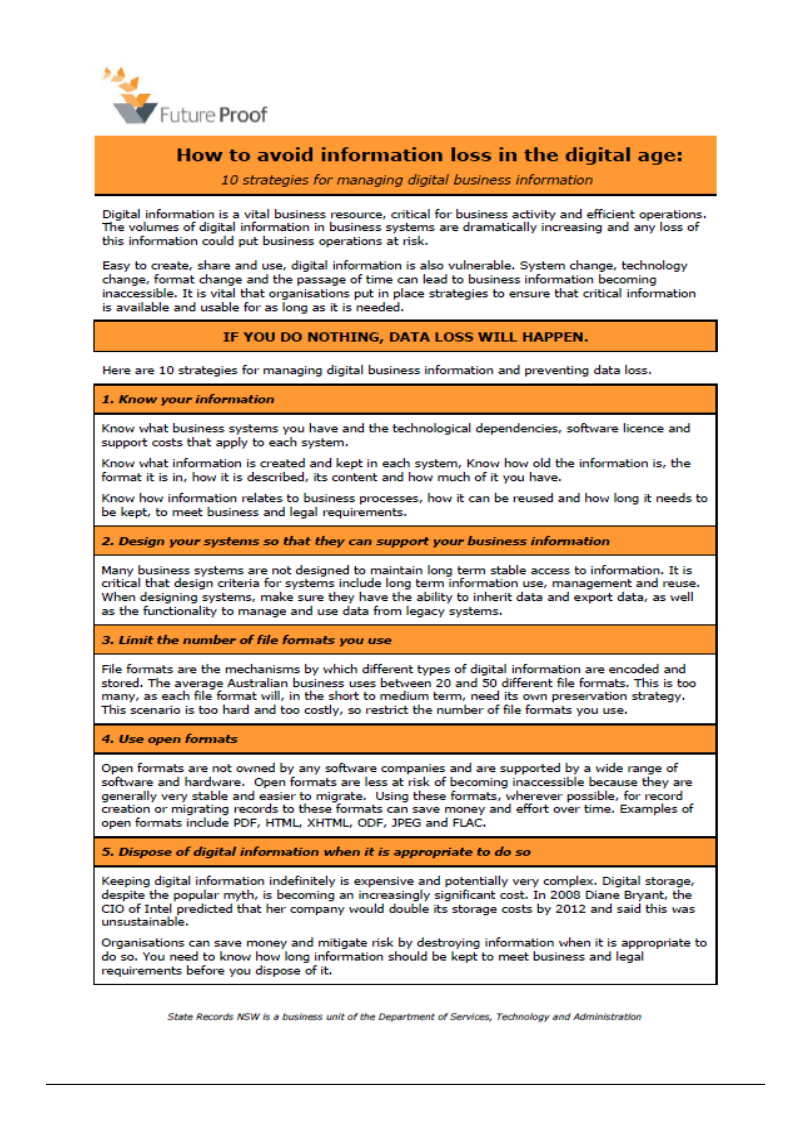 Digital information however is very easy to lose and this can become a very costly problem for your organisation to manage and to deal with into the future.
It is easy to lose digital information because it can be:
taken off line and lost in a sea of back up tapes and removable storage media
trapped in a proprietary business system and be unavailable and unusable as a corporate resource
given a bad title and lost in a plethora of digital information
inaccessible in someone's personal drive
divorced from the metadata that helps to explain it and become just a collection of meaningless and unusable data
unavailable as a business resource because its lack of connections to related emails, transactions, paper files and previous and subsequent versions mean that it cannot be relied upon or even understood
migrated and lose its meaning and integrity in the process
completely inaccessible due to its file format or other technical dependencies becoming outdated and unsupported
supported by a proprietary and/or complex file format that becomes simply too costly and difficult to maintain
literally lost in the vast collections of digital information spread throughout your organisation
a liability and an expense to your organisation rather than an accountable and reusable asset.
Something has to be done. Do nothing, and your digital information will start to disappear and will become a very expensive problem for you to manage.
As our contribution to Information Awareness Month and to re-emphasise its messages about the importance of taking immediate action in order to maintain your digital information, we have developed a short summary of some key steps that organisations can take to help them to avoid information loss in the digital age.
The summary lists ten strategies that your organisation can employ to keep your critical business information available and accessible for as long as it is required. Used in conjunction with State Records' other publications, the Standard on digital recordkeeping and Managing digital records, this plain-language how-to leaflet will be a useful starting point to help you and your organisation to avoid information loss now and in the future.
The leaflet is also a useful reminder that it is important to take steps NOW to preserve your digital information. Small steps taken now will make a significant difference to the future of your digital information.
Download How to avoid information loss in the digital age (PDF, 72kb)