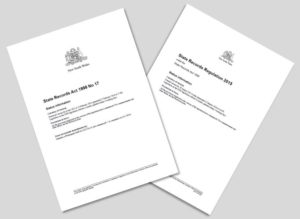 Following recent media coverage on text messages and messaging services, we would like to remind NSW public offices that text messages created or received in the course of official business are State records.
The State Records Act 1998 (the Act) defines a record as 'any document or other source of information compiled, recorded or stored in written form or on film, or by electronic process, or in any other manner or by any other means' (s.3).
The Act goes on to define a State record as 'any record made and kept, or received and kept, by any person in the course of the exercise of official functions in a public office, or for any purpose of a public office, or for the use of a public office' (s.3).
The Act uses a broad definition for what constitutes a record. This ensures that different formats that come into use as a result of new technologies are governed by the Act.
Text messages and normal administrative practice
The State Records Regulation 2015 ('the Regulations') prescribes guidelines on normal administrative practice.
Part 8 of Schedule 2 of the Regulations addresses SMS (short message service) messages, commonly referred to as text messages. It states:
Schedule 2 Guidelines on what constitutes normal administrative practice
Part 8 Messages
20 Definition of 'messages'
In this Part:
messages includes messages in the form of e-mail, voice mail, SMS (short message service) messages, instant messages, facsimiles, telephone messages, transmission reports or similar records.
21 Messages that must not be disposed of
Messages that must not be disposed of are those that are identified as having continuing value.
22 Messages that may be disposed of
Messages that may be disposed of are:
(a) those that are ephemeral, or
(b) those of which a copy has been placed on the relevant file or captured in an appropriate way within a public office record-keeping system.
The terms 'continuing value' and 'ephemeral' are also defined in the Regulations at Part 1, Schedule 2:
continuing value, in respect to records, means records that have administrative, business, fiscal, legal, evidential or historic value to the public office.
ephemeral, in respect to records, means records of little value that only need to be kept for a limited or short period of time. Records that are ephemeral have no continuing value to the public office and, generally, are only needed for a few hours or a few days.
Assessing continuing value
You should assess continuing value based on the information contained in the text message and the context in which it was sent or received. It should not be assessed based on the format of the record itself.
A robust normal administrative practice policy or policy on managing messages will help clarify responsibilities to staff.
How do I manage text messages?
Text messages need to be managed in the same way you manage other business records. They should be captured, maintained and disposed of in accordance with their business value.
If a text message has continuing value, you should capture it and store it in a recordkeeping system as soon as practicable. There are third party products that can help you to do this.
When you move text messages from your phone into a recordkeeping system, consider what metadata you might need to create or retain to ensure the records' authenticity and integrity.