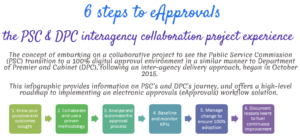 Last year, we published a case study outlining the Department of Premier and Cabinet's (DPC) Electronic Document and Records Management (EDRM) Program strategy, including their electronic approvals (eApprovals) workflow implementation.
Since then, DPC had enquiries from other agencies about their strategy and their successes, and one of those enquiries led to the collaboration between DPC and the Public Service Commission (PSC).
DPC and PSC generously shared their experience, lessons learnt and the methodologies they've used to ensure user adoption of the eApprovals solution. To date, PSC had briefing notes approved within  52 minutes of the document being routed through the solution.
Instead of a traditional written case study, we have opted to create an infographic to highlight PSC's and DPC's collaboration project experience, as well as to provide a high-level roadmap to an eApprovals workflow implementation.

Click here for a PDF copy of the infographic case study.
As always, if you have any questions, feedback or comments please don't hesitate to contact us.
Icons credit: Double-J Design (CC By 4.0)