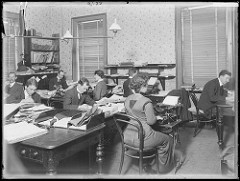 The presentations and podcasts from the Records Managers Forum held 29th November are now available on Future Proof.  The Forum promotes communication between NSW public sector records managers and provides an opportunity to exchange news and discuss issues of current concern.
The Records Managers Forum's theme was digital excellence and transforming NSW government and included presentations from:
Damon Rees, Government Chief Information and Digital Officer, Department of Finance, Services and Innovation – "NSW Government's Digital Agenda"
Rolf Green, Director Information, Policy and Innovation, Department of Finance, Services and Innovation – "States of Data"
Anna Gray, Lead Archivist, EmDARA Project, State Archives and Records Authority of NSW –   "An overview of State Archives and Records Authority's emergency digitisation of at risk archives project."
Here's a quick recap of the presentations:
Rolf Green shared information on the various DFSI initiatives for Open Data, Shared Data and Cyber Security. He also discussed some of the whole-of-government ICT strategies which included Service NSW's digital services, MyServiceNSW, and GovDC Marketplace.
Ben Alexander, Acting Executive Director, State Archives and Records NSW provided an update of the Authority's strategic plan for 2016-2021.
Damon Rees talked about the NSW Government Digital Agenda and the various projects and initiatives supporting it. He also shared that there is a new 'Complaint Assist' widget for websites which provides customers an easy and consistent way to provide feedback, and also enables us to better understand the volume and nature of complaints. (Note: State Archives and Records is currently piloting the tool and can be accessed in our website.)
In her presentation, Anna Gray provided an overview of the Emergency Digitisation of at Risk Archives' (EmDARA) project, including the project's digitisation workflow and some of the project issues encountered.
You can find the recordings here.
Image credit: Extract from SARANSW – NRS 4481, Digital ID: NRS4481_ST5131 Public Instruction Office, Department of Education, Bridge St Sydney, NSW