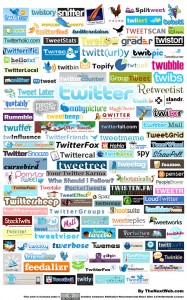 As social media is relatively new and rapidly evolving technology, there are no defined, best practice ways for making and keeping social media information as a business asset.
Organisations also use different social media channels, in a variety of different ways and for various different types of business operations.
Given there are no easy answers for how you should capture and manage your social media information, you should choose the strategies that best meet your business needs and technological environment, while making a full assessment of the potential risks involved.
Tools and approaches for managing social media information
The table below lists a range of strategies for capturing and keeping your social media information, and the pros and cons associated with each approach.
It is likely that use of a combination of these tools will build the most effective social media information strategy for your organisation.
Tool/approach: Leaving data in its native social media application
Pros:
No separate information management effort required
No additional software or applications required
Staff using the application will know how to access and use the information it contains
Short term value information is not likely to be at risk
Cons:
Long term value or high accountability information will be at risk due to projected frequency of system change
Risks to ongoing information accessibility exist because information remains under the control of an external third party
Limited corporate information accessibility if a log-in is required to view or use data
Tool/approach: Using available APIs to regularly export your information from social media applications
Pros:
Information is regularly exported into corporate system
Corporate information is brought back into corporate control
Exported information can be fed into all relevant business systems and processes
Cons:
Technical knowledge is required
APIs can change and so API-based export strategies may require ongoing update
Different APIs will be required for each social media channel
Tools/approach: Cloud-based back up systems like Backupify
Pros:
Free, basic online services
Support a wide variety of social media applications
Information can be regularly exported
Corporate information can be brought back into corporate control
Some information is exported in open, non-proprietary formats (For example, Backupify generated Twitter reports are in PDF)
These services work with a range of social media channels, including Google apps
Cons:
These tools are back up tools, not information management tools.
Their interfaces and data exports are designed to satisfy IT and backup requirements, not business or information management needs. For example, Facebook data is exported by Backupify in JSON which meets backup needs but which is not readable or accessible for standard business environments.
With these tools, export of information out of social media applications is automated but downloading of this information out of the cloud is not. Downloading and capturing into corporate systems must still be performed as a manual, scheduled process.
As they provide backup services, these tools generally download all your social media information, not information from a specific time period. The same legacy data will generally be downloaded each time you do a backup, resulting in significant amounts of duplication for high transaction accounts.
These services also change. For example, in late 2012 Backupify announced that it would no longer provide backup services for LinkedIn accounts.
Tool/approach: Cloud-based information services such as Social Safe and Archive Social
Pros:
Free basic online services, scaling to fees between $US5 – $29 per year for full service options
Support a wide variety of social media applications
Consolidate a variety of social media data into one exportable document
Information can be regularly exported into corporate systems and into corporate control
Cons:
Information is flat and not dynamically available to reuse or repurpose
Tool/approach: Application specific export tools like Instaport
Pros:
Application specific tools (like Instaport which exports images in Instagram) are available for information export.
Generally free, online services
Generally export to widely open, accessible formats
Cons:
Dependent on log-in access to social media account where content is housed
Instaport exports in .zip file which may not be the most efficient for reuse purposes
May be limits on the number of images or other forms of social media content that can be downloaded
For images, you may need to assess whether full metadata attached to each image, such as location coding is maintained through export process.
For images, export format may be limited (for example, Instaport exports images as  612 x 612 pixels) and may be smaller with lesser image quality than the original image.
Tool/approach: Social media monitoring or dashboard tools
Pros:
Many third-party, cloud-based tools are available for free, such as HootSuite
Can aggregate information from several social media channels
Can piggyback information management needs on the back of existing reporting or monitoring arrangements
Provide reporting and listening services to monitor the effectiveness and impact of your social media presence
Cons:
Limited information accessibility if a log-in is required to view or use data
There may be limits on the reporting and analysis information that is available for export
Key business intelligence and reporting information is contained in reports and analysis so exportability of this information needs may vary
Some organisations use licensed applications such as Radian6 and Alterion. While offering good functionality, these systems can be expensive to deploy and maintain and the exportability of their information needs to be verified
Tool/approach: Export tools associated with blog or wiki technologies
Pros:
Free tools offered as part of blog or wiki services
Simple to use
Can export some or all of your content, depending on your specific business needs
Export information in open formats which can enable reuse and repurposing
Cons:
Not all blogs or wikis have export capacities
Export is often limited to specific formats. For example, WordPress version 3.8.1 exports all content only in XML.
Export is primarily designed to carry data from one blog or wiki version to another, not for business reuse or ongoing information management purposes. Information may require subsequent processing to render it in formats suitable for specific business use.
Tool/approach: Reporting tools that come with your social media application, such as Facebook Activity Logs
Pros:
Free, online services
Generally export to PDF and other widely open, accessible formats
Capture all activities that occur on social media sites
Cons:
Export needs to be manually performed
Information is flat and not dynamically available to reuse or repurpose
Tool/approach: Analytic tools, like Google Analytics or blog software analytics
Pros:
Free, online services
Useful for monitoring blog use, search engine terms, referring sites, top posts and pages
Some information can be exported
Some corporate information analysis can be brought back into corporate control
Cons:
May not export reports
May not export reports in business-ready formats
May need to be supported with screenshots, written reports or other ways of capturing the business information
Tool/approach: General third party, cloud-based reporting tools like Storify
Pros:
Free, online services
Can allow you to gather a range of disparate social media information sources into one place to tell a story
Particularly useful for capturing different sets of online information about events or conferences
Cons:
Export functionality may not be present
Tool/approach: Use a purpose-built software tool
Pros:
Can be designed to meet your specific business requirements
Can be designed to integrate and share information with your corporate business applications
Can provide a very comprehensive and accountable recordkeeping solution
Information capture and management can be automated
Cons:
May involve initial purchase and subsequent licensing costs
Will take time and money to implement effectively
Will possibly need to be upgraded as social media applications and approaches change
Tool/approach: RSS feed
Pros:
Free
Useful for a range of social media applications
Useful for auto-populating Twitter and Facebook based on blog updates
Can be configured to send an email containing a complete blog post, or tweet or comment etc to a designated account
Cons:
Emails will require manual intervention to capture into corporate systems for accessibility and useability
Tool/approach: Screenshots
Pros:
Information can be kept
Information can be kept in accessible formats
Images provide an exact representation of the content as it appeared in the social media application and have been submitted as evidence in legal cases
Cons:
Information needs to be manually updated
Information will require regular staff commitment to keep up to date
Information is flat and not dynamically available to reuse or repurpose
For active accounts, there will be a significant cost in staff time
Tool/approach:  Reports of pre-scheduled posts
Pros:
Information is compiled as part of process of developing and authorising social media posts
Cons:
Information is not an exact representation of what was posted on social media sites but is an approved records of what was authorised to post
Strategy: Records and information management staff can deploy social media monitoring tools
Rather than rely on business areas to make and keep business information of their social media activities, records staff can deploy social media dashboards and monitoring tools to monitor all internal social media accounts and to export the information from these accounts as required.
Services in this area are very subject to change
It is very important that you keep an eye on any information management solutions you implement for your social media. Many of the free online services that are available offer very good and useful functionality but these technologies are evolving rapidly.
A solution that suits you today may evolve into something different tomorrow or a solution that exists today may disappear tomorrow.
Many free services are experimenting with formats, functionalities and services and the capacities they offer may change quite regularly.
All the free services are ultimately actually commercial operations and so the services they offer will be driven by business imperatives. For instance, Backupify announced in December 2012 that they will no longer be providing backups of LinkedIn data. Increasingly their corporate revenue is coming through backup for enterprise-based SaaS applications. They are therefore focussing less of their resources on consumer back up requirements and more on corporate requirements.
Therefore be very aware of change and vulnerabilities in this space and monitor whatever services you deploy to ensure they continue to meet your business needs.
Use information management channels that you already have
One organisation, when seeking community consultation via social media, directed people back to its organisational blog to provide feedback. The blog was set up with an RSS feed so that any comments received on it were emailed automatically to relevant staff. Staff were able to capture these emails into their corporate records system, based on existing processes and procedures.
Next: Frequently asked questions