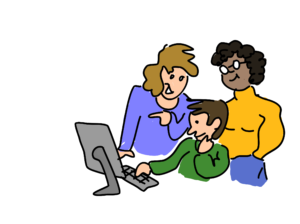 NSW government agencies are increasingly using collaborative tools to transact government business. Whether used for drafting policies or managing projects or commenting on proposals, these tools will create and store records. Organisations need to establish policies and practices to capture and keep the records it needs to account for decisions made and the outcomes of collaboration.
State Archives and Records NSW recently published some advice on keeping records created in whole of government collaborative tools. Coincidentally, the Digital Implementers Group met last week to talk about collaborative tools and their implications for recordkeeping.
A place for everything and everything in its place
In the spirit of Mary Poppins, a number of members talked about the ways in which their organisations are encouraging users to think about the work they're doing and the systems and spaces in which they're doing it: there are different places and spaces for different types of information.
Users are encouraged to begin thinking about projects and products and jotting down their initial thoughts in less controlled information spaces, such as personal drives.
Collaboration with colleagues on drafts, research, brainstorming within a team etc then occurs within collaborative spaces such as SharePoint or Google Docs. One member described this as the 'conceptual' or 'ideation' space.
Records documenting decisions, results, approvals etc are captured in a formal recordkeeping system (e.g. EDRMS) or business-specific system with recordkeeping functionality.
Interestingly, a few members commented that users still turn to email when they want to get something approved. This chimes with the observation that rather than 'killing' email, new collaboration technologies rely on it.
Someone needs to take the lead
When it comes to interagency collaboration, State Archives recommends establishing a 'lead agency' that is responsible for ensuring that the primary records created by the project are managed and kept for the minimum retention periods required.
One of the members of the Group spoke about how this works for collaboration with government agencies in other jurisdictions – the lead agency assumes primary responsibility for recordkeeping, while the other agencies determine what records they need to keep for their own business needs.
Don't forget about the leftovers
Most of the members of the Group said that their organisations capture key records of decisions and final products from collaborative systems into their EDRMS. This raises the question – what to do with the records that remain behind?
This is an important consideration as part of any strategy for capturing records from systems into an EDRMS. Whether it be SAP or SharePoint or Outlook or Salesforce – organisations need to establish retention rules for any data that remains in systems after export. This should not be neglected, as otherwise it just defers the problem and makes it solution increasingly difficult.
Better the devil you know (again)
Just like at their last meeting, members again acknowledged that it is better to have users creating records in known systems (no matter their recordkeeping limitations) than in unknown and uncontrolled external systems (e.g. Dropbox).
If organisations do not provide users with systems for collaboration, users will simply find such systems themselves. The risks to records grow when they leave an organisation for uncontrolled, external, cloud-based spaces.
As always, thank you to the wonderful members of the Digital Implementers Group for sharing their experiences.
photo by: Good Free Photos