Are you undertaking a systems consolidation project? Would you like to know what strategies or tools you need to implement such a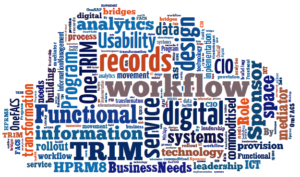 project?
We have recently published a case study on the OneTRIM program implemented in the Department of Family and Community Services (FACS). The Program consolidated six electronic document and records management system into one instance and rolled it out to 10,000 users from various business units and in dispersed geographical areas.
The case study looks at the overall program implementation and provides specific information such as the Program's deliverables and design principles behind the solution. It also highlights components of the Program which contributed to its success such as implementation plan, change management, governance structure and the high performing Program team.
Please head on over to the State Archives and Records NSW website to read about it!
State Archives and Records NSW would like to thank the staff at FACS for involving us in this significant recordkeeping program.
Image credit: Word cloud generated through Tagxedo.