I was pleased at the last Records Managers Forum to be able to talk about a recent initiative from State Records, OpenGov NSW. OpenGov NSW is a searchable online repository for information published by NSW Government agencies, including Annual Reports, other publications and open access information released under the Government Information (Public Access) Act 2009 (GIPA Act).
The published information it contains is both contemporary and historical, and currently runs at over 2000 titles. Some of the publications of note in OpenGov include a complete set of Government Gazettes 2001-2013 19th and early 20th century digitised Annual Reports for the Department of Public Works and the Police Child Welfare Department Annual Reports from the  mid 20th century, and plenty of current NSW Government published information such as 2011-12 Annual Reports, strategic plans and policy documents.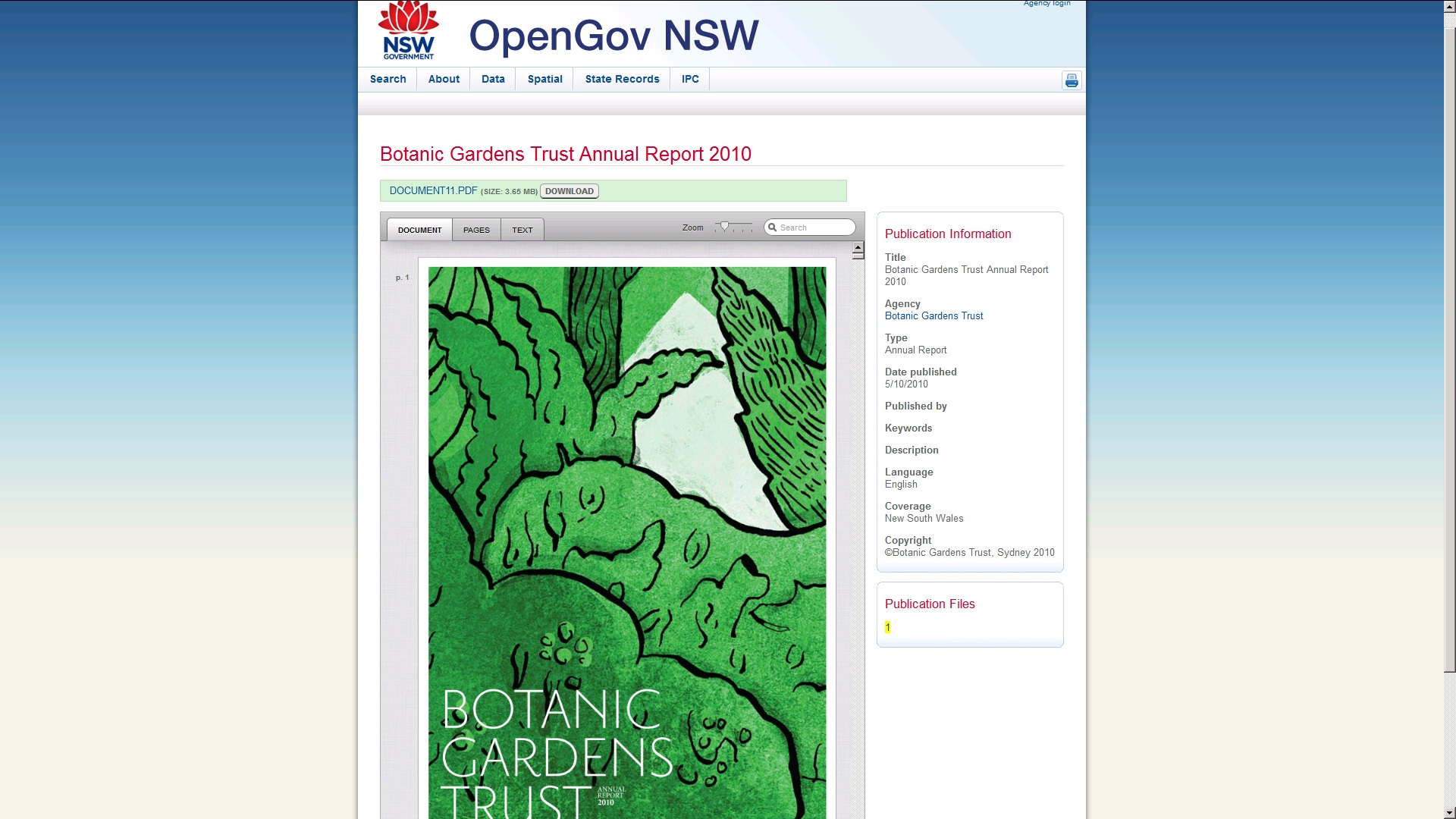 Better access to government information
OpenGov directly supports the NSW Government's commitment to improved access to government information. Goal 31 of the State Plan 2021 is 'Improve government transparency by increasing access to government information'. An action that was defined to achieve this goal was to 'expand the Publications NSW website to include access to all agency information published as 'open access' under GIPA.' OpenGov is the new successor to Publications NSW.
This initiative is also an important part of State Records' Future Proof strategy. Through our Digital Archives project, a key part of the Future Proof strategy, we have established the infrastructure and expertise to keep digital information usable and trustworthy in the long term. All the contents of OpenGov are stored securely in the NSW Digital Archives. We have also been able to bring the power of State Records' contextual control systems to bear on making the contents of OpenGov useable and accurate in the long term; by linking publications to the registered 'agency' in our archival control systems we can ensure they remain linked to the correct creating agency, whatever name and other changes have occurred since publication.
Why use OpenGov NSW?
For agencies, there are many benefits in using OpenGov NSW:
by publishing to OpenGov you are relieved of the burden of maintaining all the older Annual Reports and GIPA released documents on your agency website over time. This will provide certainty to you and your customers and other stakeholders that the important information you publish will remain available
if you choose, your agency can publish exclusively to OpenGov and link to us. This is permitted under Annual Reporting and other rules for publishing government information. We provide a link to your content in your agency's work area that you can use to link to us
agencies need not arrange for transfer of their Annual Reports to State Records as State archives in hardcopy if they have uploaded them to OpenGov
once you are logged in as an Agency user your upload history will be maintained by OpenGov
you will soon be able to track the popularity of your agency's content
your agency's published information will be more findable and preserved in context
your agency's information will be accessible and safe for the long term by being kept in the digital archives.
In addition OpenGov offers:
powerful full text and metadata search
ability to refine by year, publication type, date or agency
ability to sort by relevance, date
viewing of page thumbnails, extracted text
searching within publications, and
downloading and saving publications locally.
Plus, an API (Application Programming Interface) for developers and others enables access to lists of publications, agencies, publication metadata or full text in a range of formats for developing other applications, visualisations of government information or  integration with other websites.
Find out more
There are detailed instructions for using OpenGov on our 'FAQs' page or contact us at opengov@records.nsw.gov.au