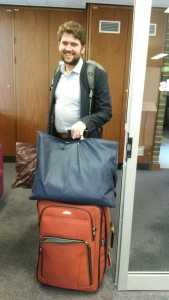 It is with sadness that State Records says goodbye to our colleague Peter Bisley. After 2 1/2 years at State Records, Peter has moved on to new adventures in his native New Zealand.
During his time at State Records, Peter provided lots of excellent advice to NSW Government agencies as they implemented new systems and processes for recordkeeping in the digital environment. Peter has been an important contributor to the digital transformation of NSW Government.
Peter played a key role in the development of the Standard on Records Management, as well as our advice on the records and information management considerations associated with decommissioning systems. He was also actively involved in the development of "by design" strategies for information management across the NSW public sector.
We wish Peter all the best for his post-State Records life!
Photo credit: Grace Hui