Data visualisation has the digital universe all mesmerised and here at State Records, we are always interested in learning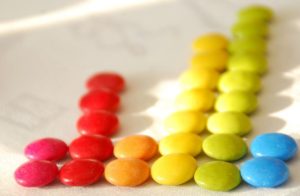 what other agencies are doing on this space.
The DX Lab at the State Library of NSW has already started experimenting on visualising its data. They have produced some amazing data visualisation projects which showcase the Library's collections, data sets and services: 1001 Postcards, Loom, and Weemala.
Ann and I met the team and Elisa Lee who along with Adam Hinshaw are the inaugural fellows for the DX Lab.  Elisa and Adam's work is at prototype stage at the moment and they are using web logs to visualise in real-time the content people are accessing from the collection via the State Library of NSW's website and external sites such as Trove and Flickr. "It is essentially a view of the collection curated by the people who are accessing it at any given time, a window display into the treasures the library contains."
From a user's perspective, this type of data visualisation allows the user another way of exploring the library's collections – both published and non-published items. It also provides insights into what other users are looking for, including patterns and relationships with several items.
For more information on Elisa and Adam's progress, check their blog.
This post will hopefully spark some thinking of how we can use data visualisation principles / techniques to grab the attention of our clients and executives to support records and information management initiatives.  We keep a lot of records and information, and we have metrics to document what we do.  Maybe it's time we present it visually.
Please contact us if your organisation has done some data visualisation, or are using big data or data analytics as we are interested to hear your experiences.
Photo credit: Areta Ekarafi on Flickr used under creative commons license (CC BY NC-ND 2.0)