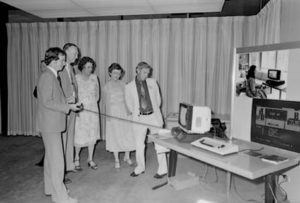 We recently convened our regular hex-hebdomadal Digital Implementers Group meeting. Dr Ann Turner shared some fascinating insights into her experiences consolidating six distinct TRIM implementations into a single TRIM instance for the Department of Family and Community Services (FACS). Dr Richard Lehane spoke about the philosophy and practice of our Digital State Archives.
Listen to the podcast of Dr Ann Turner's presentation (49:16)
Listen to the podcast of Dr Richard Lehanes' presentation (35:49)
OneTRIM to rule them all
Following successive administrative changes, FACS is running six separate instances of TRIM, each with their own databases, policies and business rules and configurations. The One TRIM project aims to break down these siloed datasets and create a single view of customer information to support decision making.
Technology is easy, people is hard
In this instance, think of 'easy' as 'well-defined'. For the technical aspects of the consolidation, the outcomes and outputs are identifiable and you can tell when they have been achieved. This by no means suggests that the work was trivial. For example, mapping the various business classification schemes spanned 10,000 rows of spreadsheet.
However, managing people is where the greater challenge lies. Dr Turner emphasised that successful change management is more than just baseline communications and training. People may often prefer a more difficult and convoluted process that they know rather than a simpler one that they don't.
Buy in and engagement at every level
Dr Turner and her small team developed a Change Sponsorship Framework to ensure that business areas and users will be well supported in both their requirements and skills throughout the consolidation. Change Champions and Super Users have been nominated from each Division to complement the training from a suite of self-paced e-learning modules. Business and technical advisory groups have provided important input along the way.
The Digital State Archive
Our Digital Archives was established in 2011. The team is responsible for not just the Digital Archives, but also Data NSW and OpenGov NSW services. Our Digital Archives Migration Methodology involves defining custom migration plans to support the transfer of digital records to the State Archives.
Digital preservation challenges
Dr Lehane spoke about the diversity of systems and formats used in the NSW Government and the challenges they present to digital preservation. There is no guarantee of backwards compatibility, which means records in older formats can become unreadable.
For an example of how we managed records maintained in obsolete technology, check out our recent blogpost on the STATUS database.
Digital duplicity and where to find things
A certain record might available be on Data NSW, OpenGov NSW, and eventually the Digital State Archive. The same record may also be on the originating agency's website. The public has a reasonable expectation that each version is an authoritative version of the record. Where should they look to find it? Our Digital Archives team is exploring ways to make sure the public can find what it is looking for into the future.
Dr Ann Turner's presentation slides
Dr Richard Lehanes' presentation slides
Photo credit: NAA: J2364, 6568/3 Centenary display and dinner, Communications House, 8 October 1980.