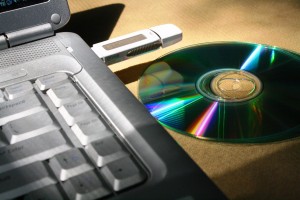 As organisations increasingly transact their business digitally, they may receive records on removable media such as CDs and flash drives. An example of this is the requirement set by many local councils to submit development application documentation electronically.
We have recently been asked how long organisations need to keep these removable media after the records have been captured into their recordkeeping system.
In the scenario presented to us, the organisation received records from customers on CDs and flash drives. The records were copied to the organisation's enterprise content management (ECM) system, where they will be managed and made accessible to relevant employees.
In this scenario, we advised that as long as the contents of the removable media have been captured in the ECM system there is no need to retain them. The organisation can destroy the removable media under the normal administrative practice provisions of the State Records Act 1998 as the contents of the devices are just copies.
It is important to establish and implement a procedure for dealing with records received on removable media, as there are some risks associated with their use:
Without clear procedures establishing what to do with removable media after the records have been copied to organisational recordkeeping systems there is a risk that the organisation will be keeping multiple copies of records. This may result in confusion as to which is the 'official' record, and in the over retention of corporate information (which is costly and raises additional risks for the organisation).
Removable media are easily lost, misplaced or stolen. This can cause public embarrassment and result in a breach of privacy legislation. We have previously written about the scandals involving the loss or theft of removable media.
For further advice about using removable media and establishing procedures for their use, see our advice on managing removable media.
Has your organisation established procedures for managing removable media? Leave us a comment below!